Punch Kettlebell Gym at Far Hills!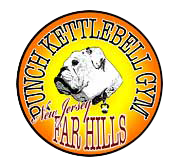 Punch Far Hills Ad
So Much Fun!
"I was told about Punch Gym by my friend – he told me the workouts were the best way to lose weight. Now, I've been at Punch for about 5 months and I totally agree with him. I've seen major results and everybody has been commenting on my weight loss. Also, I feel stronger and I have much more energy.
The best part is, Punch Gym is so much fun! The trainers are great, I love the music, the members are friendly, and the exercises are really good. I do a mix of personal training and classes and I always look forward to coming in. When I used to do spinning, my back would always hurt and I would have to see a chiropractor. Since I've started at Punch, I don't have any more back issues. I come two to three times a week and I'm always telling my friends to come here and workout. It's a great gym and I've never been in such good shape in my entire life!
—Samia Villarta
---
One Free Orientation!
Please call ahead and mention this coupon for your free orientation.
Now at
Punch Kettlebell Gym
Main St and Railroad Ave, Peapack NJ 07977